In order to offer the top position as a service provider for the procurement of competitive information and the creation of marketable right-pricing, using all available synergy potential, Switzerland is the ideal starting point – technologically in the premier league, politically as well as economically sound and stable.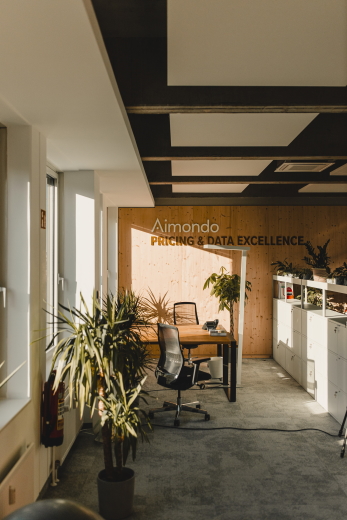 The company, which is based in the canton of Appenzell, has the management potential as well as the financial means to make Aimondo technology known and dynamically available in key markets. Starting from the location between the traffic hubs Zurich and Munich and only a few miles from the world-renowned management training center for management, law and economics in St. Gallen. Meanwhile Aimondo operates also from Zurich an has a subsidiary in Zurich, Seestrasse 17/19. Marketing companies with the name Aimondo have also been established in Bolzano (Italy), Vienna as well as in London. They have already been active in those national markets. 
The central product development and version maintenance as well as the round-the-clock network monitoring is provided by the 100% subsidiary in Düsseldorf/Germany. The international team draws on the abundant potential of the Rhein- / Ruhr metropolitan region, which forms one of the world's most attractive living areas with its diverse cultural and living influences and its high recreational value for young, well-educated people. Aimondo GmbH was was granted the german innovation award TOP 100 in 2020.
The development of Artificial Intelligence in one place would not do justice to today's reality, unless teams of people around the globe were working on individual modalities. The best specialists are searched and found around the world to inject modules in the Aimondo Cloud into an effective whole. The technical infrastructure of hardware is taking a back seat – the virtually usable computing services belong to the most diverse providers in the most diverse countries. They are booked by Aimondo to the second and used. The result is a fail-safe, always available and unlimited system architecture. It is as limitless as the market in which we move.
Safety and continuity are our highest priority. To date, there has not been a day's downtime – until today, we have not met any capacity limits. Even if the entire team failed, there would be no permanent performance slump. All software modules, their source code and their blueprint are stored periodically for each release in Switzerland and are so well commented that they can be further maintained and continuously developed after an appropriate training. The capital structure of Aimondo AG consists of ordinary and preference shares (participation certificates). This prevents an operational influence, which consists only of financial power and not of industrial competence. Further details are explained in the chapter "Family & Friends Insight".